Most media reports about the spending related to Coronavirus in Canada have focussed on the Government of Canada's enormous spending. But there's much quieter spending that's been taking place through the Bank of Canada, and some aspects of it, such as a large increase in the amount of money in Canada, the role of TD Bank, and large purchases of mortgages, have escaped notice. Bank of Canada assets and liabilities have increased by $430 billion in about six months. This deserves a lot more attention than the news has given it, and the specifics of some of the programs should give many Canadians pause as to whether their money is being wisely expended. Given the widespread suffering of people in Canada due to Coronavirus, there's an even greater duty for our government to be transparent about who has gained and lost through its spending, and how.
Money Supply: 3x, Balance Sheet: 5x

Canada's money supply (M1+) increased from 7.8 in January to 22.7 in July (no newer numbers are available.) What does a nearly three-fold expansion of the amount of money in Canada mean for Canadians? Intuitively, an expected consequence of this expansion is an increase in inflation, but the Bank of Canada reports that, as of July, the CPI inflation rate (their main measure) was 0.1% per year.
It seems that the largest dilution of the value of Canadian money in recent history hasn't caused the price of consumer objects in Canada to increase. One explanation is that although consumer prices haven't increased, other things have. An obvious outlet for the money is the housing market, which has been on a tear lately in Canada, but also the stock market, which has also skyrocketed in past months, despite a catastrophic decrease in Canadian GDP of approximately 1/3 due to government closures of business combined with widespread fear of catching a deadly disease. But what else has the Bank of Canada been up to?
Balance Sheet Expansion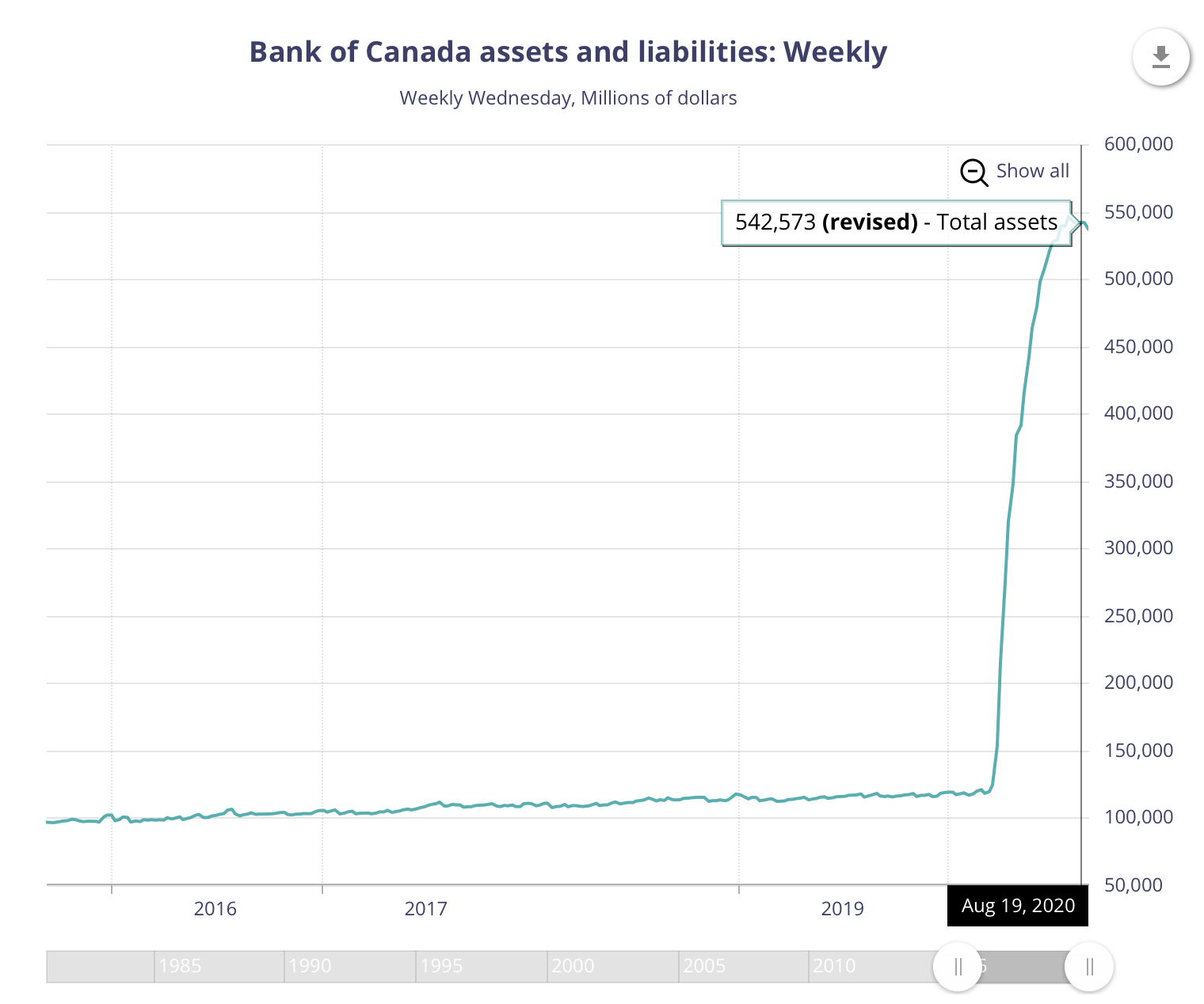 The money supply is important but there are other numbers that are worth looking at, such as the Bank of Canada's assets, which have increased by nearly 500% in the last six months. This is a staggering increase that should warrant at least a press release or a notice to the public, but the Bank of Canada's press release and news sections are almost totally silent on this unprecedent expansion. There's also almost no detail about where, specifically, the money went. Although the majority of the money has gone to finance the Government of Canada's deficit, at least some of the money has been directed into the coffers of investors in Canada through a bond buying program and a mortgage-backed securities purchase program.
Bond Buying
One of the quiet programs the Bank of Canada has spun up is a program to purchase bonds from companies that they've selected (with undisclosed criteria). The companies are listed here and include the car leasing divisions of many foreign manufacturers such as Honda, Nissan, and Toyota. Should the Bank of Canada be spending its money to prop up the lending divisions of foreign car companies during a crisis that has hammered the Canadian economy? Or more accurately, to prop up the investors that hold these bonds? (Since the bonds are being purchased on th secondary market, they're not newly issued bonds.)
TD Bank's Involvement in $10 Billion Of Corporate Bonds
This program is authorized to buy up to $10 billion of bonds (but so far has spent far less than the approved amount). Last week the Bank of Canada bought $14.2 million (par value) of bonds of two undisclosed companies from undisclosed sellers. Curiously, this opaque program is being run by TD Asset Management. The first contact on the Bank of Canada's website is not a government official, it's the Head of Fixed Income, Robert Pemberton, from TD Asset Management! So if you want to know what the Bank of Canada is doing, they recommend that you speak with a senior vice president of one of Canada's big banks. This sort of delegation shouldn't be permitted and it's very rare to see a part of the government direct the public to speak with a major private corporation about what they're doing. They're listed first, with the Bank of Canada's staff person listed second. Presumably TD Bank will not be responding to Freedom of Information requests.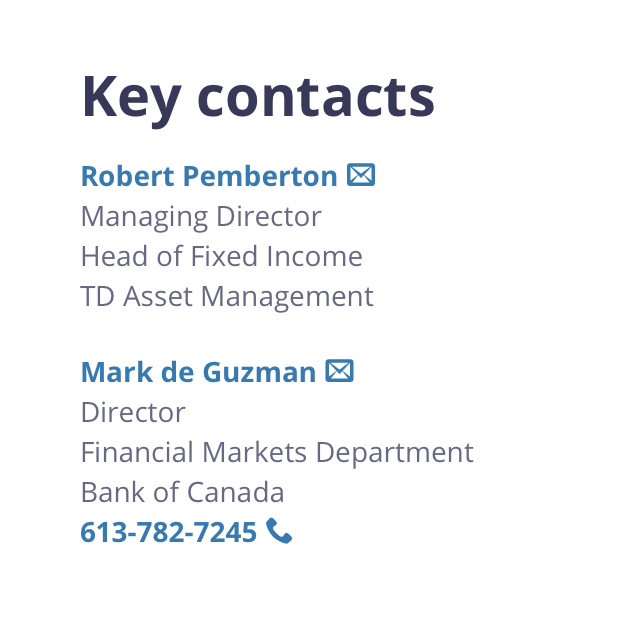 Which Bonds?
Below is the full list, as of September 8th, of the companies eligible for the Bank of Canada's bond buying program. I've written the full list out below because the list may change without notice.
Bell Canada Inc, Bell MTS Inc, Rogers Communications Inc, Shaw Communications Inc, TELUS Communications Inc, TELUS Corp, Algonquin Power Co, AltaGas Ltd, Brookfield Renewable Partners ULC, Bruce Power LP, Canadian Natural Resources Ltd, Canadian Utilities Ltd, CU Inc, Enbridge Gas Inc, Enbridge Inc, Enbridge Pipelines Inc, Energir Inc, Husky Energy Inc, Inter Pipeline Ltd, North West Redwater Partnership / NWR Financing Co Ltd, NOVA Gas Transmission Ltd, Ontario Power Generation Inc, Pembina Pipeline Corp, Suncor Energy Inc, TransCanada PipeLines Ltd, Westcoast Energy Inc, Caterpillar Financial Services Ltd, CI Financial Corp, Daimler Canada Finance Inc, Fairfax Financial Holdings Ltd, GE Capital Canada Funding Co, General Motors Financial of Canada Ltd, Genworth MI Canada Inc, Great-West Lifeco Inc, Sun Life Financial Inc, Honda Canada Finance Inc, Intact Financial Corp, John Deere Canada Funding Inc, John Deere Financial Inc, MCAP Commercial LP, Nissan Canada Inc, TMX Group Ltd, Toyota Credit Canada Inc, VW Credit Canada Inc, Alimentation Couche-Tard Inc, BMW Canada Inc, Brookfield Asset Management Inc, Cameco Corp, Canadian National Railway Co, Canadian Pacific Railway Co, Canadian Tire Corp Ltd, Dollarama Inc, Finning International Inc, George Weston Ltd, Leisureworld Senior Care LP, Loblaw Cos Ltd, Magna International Inc, Metro Inc/CN, Penske Truck Leasing Canada Inc, Saputo Inc, Sienna Senior Living Inc, Teranet Holdings LP, 407 International Inc, Alectra Inc, AltaLink Investments LP, AltaLink LP, Brookfield Infrastructure Finance ULC, Emera Inc, ENMAX Corp, EPCOR Utilities Inc, Fortis Inc/Canada, FortisAlberta Inc, Greater Toronto Airports Authority, Hydro One Inc, Hydro Ottawa Holding Inc, Lower Mattagami Energy LP, NAV Canada, Toronto Hydro Corp, Vancouver Fraser Port Authority, Winnipeg Airports Authority Inc, AIMCo Realty Investors LP, Allied Properties Real Estate Investment Trust, bcIMC Realty Corp, Bow Centre Street LP, Brookfield Property Finance ULC, Choice Properties LP, Choice Properties Real Estate Investment Trust, CT Real Estate Investment Trust, First Capital Real Estate Investment Trust, Granite REIT Holdings LP, H&R Real Estate Investment Trust, Ivanhoe Cambridge II Inc, OMERS Realty Corp, Original Wempi Inc, RioCan Real Estate Investment Trust, SmartCentres Real Estate Investment Trust, and Ventas Canada Finance Ltd.
Mortgage Buying
Last week, the Bank of Canada purchased $40,000,000 of CMBs, which are a type of mortgage security that is guaranteed by CMHC (an agency of the Government of Canada). These CMBs are purchased from mortgage companies and, most especially, the large banks. Normally, the Bank of Canada buys these from the CMHC, but a number of months ago they decided to buy directly from the companies that hold these investments "to support market functioning" (presumably, this means high prices but they don't explain what "market functioning" means). All of the CMBs have been purchased at well above the par value (i.e. purchase yield lower than coupon rate). This is not necessarily bad, but shouldn't the Bank of Canada disclose why they're buying bonds at much higher than face value? There's virtually no explanation, other than a few high-level policy terms, of how or why this is being done, but the result is clear: "up to $500 million per week" will be transferred to mortgage issuers/investors, likely with an undisclosed amount of profit for investors (who have a choice as to whether to sell to the government or someone else).
What will be the result of this program? One outcome is likely higher prices for homes by expanding access to mortgages (by subsidizing the mortgage market). This has already been seen in many markets across Canada through rapidly increasing home prices that further excerbates the home-affordability crisis in Canada. As with all policy choices, there are costs. But reading the Bank of Canada's website will tell the public nothing about who the winners and losers of their policies are likely to be.
What Happens Next?
A lack of transparency about the details of the Bank of Canada's measures is a warning sign, and a 5x expansion of the central bank's balance sheet is something that should be ringing alarm bells. What happens next isn't known, but I hope that a measure of transparency is brought to the government's spending so that the people of Canada can understand how their money is being reduced in value and spent.