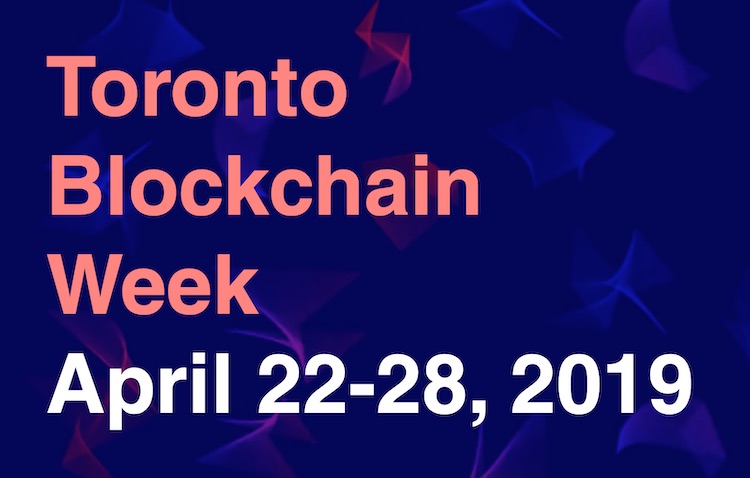 Toronto will be celebrating Toronto Blockchain Week (TBW) from April 22nd till 28th. The website for TBW is https://www.torontoblockchainweek.io and the reaction to its launch last week has been very positive. Toronto has a lot to effort to the nascent blockchain industry.
Toronto Blockchain Week is a week of events related to blockchain technology, on topics such as cybersecurity, legal issues, investment, accounting, enterprise applications and more. The first few anchor events will be announced this week, with many more coming over the following weeks. (If you're interested in running an event, skip to the end of this blog post for info on how to participate.)
I'm one of the founders of Toronto Blockchain Week. I joined this initiative because of its mission to do things differently by having the best & most inclusive week of activities. We're laying the foundation for future years of Toronto's blockchain industry by providing a week that includes everyone from international investors looking for startups to fund, to student teams with the next big idea. TBW is a week of events for everyone, no matter their level of sophistication or financial resources. Although some of the events during TBW will have typical conference-price tickets (it's up to each event organizer to determine), we expect many to be affordable for students and the public through sponsorship, taking place at supportive universities (i.e. U of T/Ryerson/York), and the generous offers of blockchain companies in Toronto. There will be events held at Bay St. law firms and at the offices of scrappy startups. Expect to see it all! But most importantly, this week is about showcasing our amazing diversity of talent and approaches to what "blockchain" means for Toronto and the world.
No company is too small to participate in TBW and no institution is too big. This event will be a chance to meet colleagues from Toronto and abroad (primarily the United States & Europe) as we as a community put on an event to show the world what Toronto is all about. We've already had inquiries from international companies looking to sponsor TBW as they seek to enter the market here, so I expect this will be a great opportunity for Canadian businesses to find US/European partners. But the goals of TBW are much broader than commerce, and I'm positive that many ideas will form and great discussions will happen during the week for the thousands of participants.
We're encouraging everyone involved in blockchain/cryptocurrency in Toronto to host an event during the week, or to join an existing event. There is a TBW staffer who is matching event spaces with people who want to run events, finding speakers, and helping out with other logistical details. We're also aiming to be able to subsidize student events and create other opportunities for non-financial participation, in the best tradition of the open-source/crypto community.
If you'd like to be a part of TBW feel free to send me an email (addison@cameronhuff.com) or contact organizers@torontoblockchainweek.io. Here's the direct link to the mailing list sign up page: https://torontoblockchainweek.us20.list-manage.com/subscribe?u=89db55d18bbd4f32f7c7508a4&id=2907a258a6.