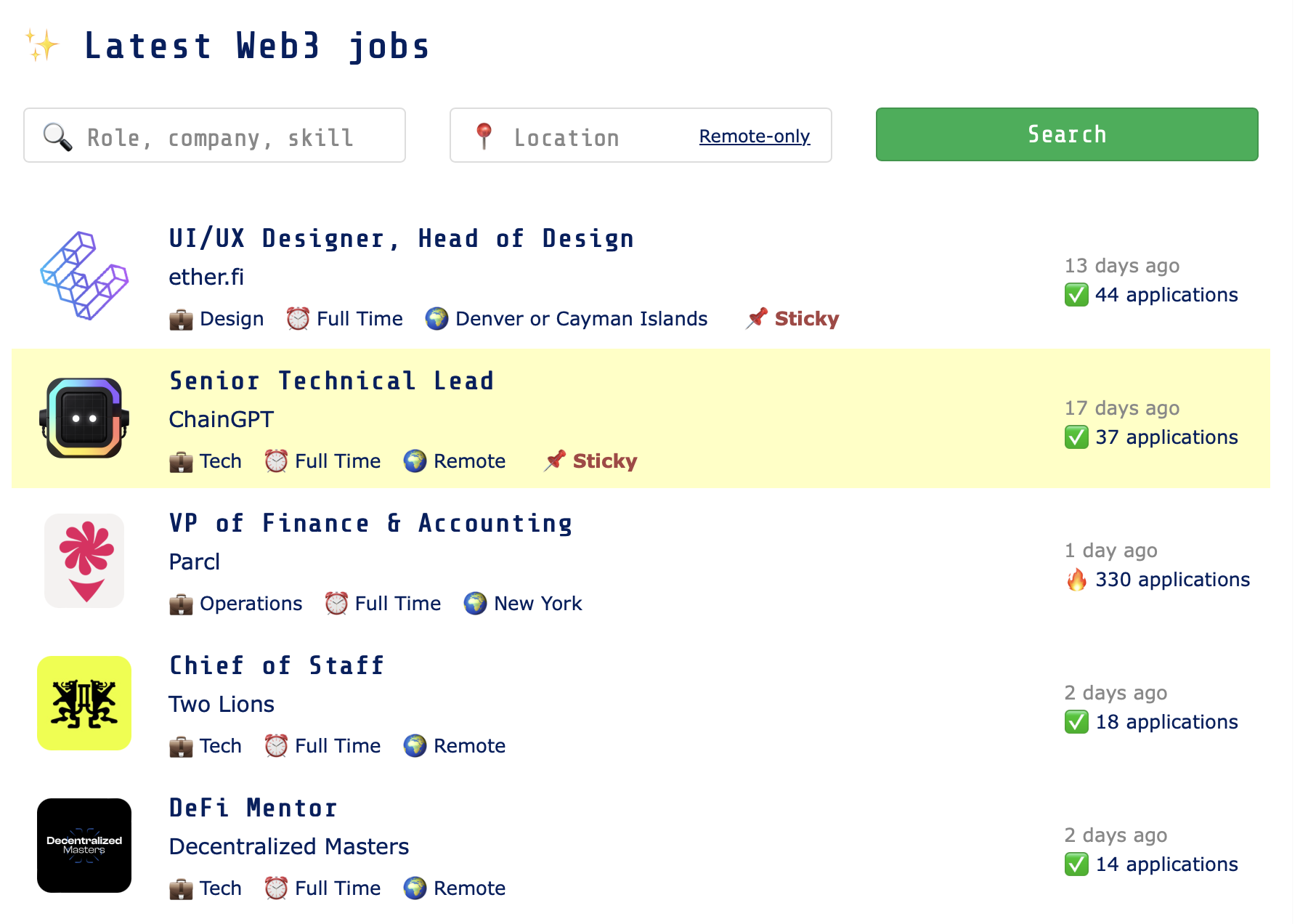 As a lawyer who's worked in the crypto space since 2014, I've introduced quite a few people to potential opportunities as an incidental part of the job. I've also seen many people get hired into key roles. A rapidly developing industry means that there's always new companies hiring people with a range of experience. This blog post is about some of the ways I've seen people get jobs in crypto. Below are a few of the ways to get jobs, and at the bottom of this post, some crypto-specific websites to check for job postings.
Referrals
Probably most people are hired by people who know them. They either know them by reputation, through a colleague, or past work experience. This is a great way to get a job but it also assumes that the person has a strong network of people to make referrals, which is not true for many jobseekers. But if you know someone at a company, or you know someone who knows someone at the company, particularly someone in management, that's a good way to be considered. There are often unadvertised positions, or a position might be made for the right candidate.
Job Boards And Aggregators
Job boards and aggregators of job boards, like LinkedIn, Indeed, etc. are great sources of jobs. These are websites where companies post positions.
Personal Marketing
A decent number of hires in crypto are made on the basis of personal marketing that people have undertaken. Becoming somewhat well-known through LinkedIn, Twitter, or even Instagram/TikTok/YouTube/etc. can be a huge leg up in hiring. A public presence shows that someone is confident, can speak well, and knows how to build an audience. I've even seen lawyers be hired liked this into crypto jobs.
Recruiters
There are specialty recruiters that help to connect people with jobs. Sometimes they can connect people with unadvertised jobs, which is particularly true for more senior people. Recruiters either act for the candidate or they act for the company.
Careers Pages
Many companies have their own career pages with listed roles. In some cases these roles aren't advertised on job boards (and vice versa). It's always worth checking the careers page of a target company. You can read about my experience aggregating these using a mini-search engine in a blog post from earlier this week: https://www.cameronhuff.com/blog/job-search-indexing-system/index.html. There are thousands of jobs being advertised on company websites at any given time in crypto.
Example Websites For Finding Jobs In Crypto
There are a number of websites that aggregate crypto-related jobs. Some lean a bit more toward the decentralized/anonymous end of things, and many are remote-friendly.
https://cryptocurrencyjobs.co is a very professional-looking site with regular postings.
They offer a job board that's "curated" by somone who presumably gets a cut like this; https://bankless.pallet.com/jobs
Another good job site: https://crypto.jobs/?page=1
Another job site with NFTs involved: https://kleoverse.com
Remote work listings (some of which are blockchain-related): https://weworkremotely.com
Here's an interesting business that seems to be something along the lines of recruiter-as-a-service: https://www.pallet.com/pricing